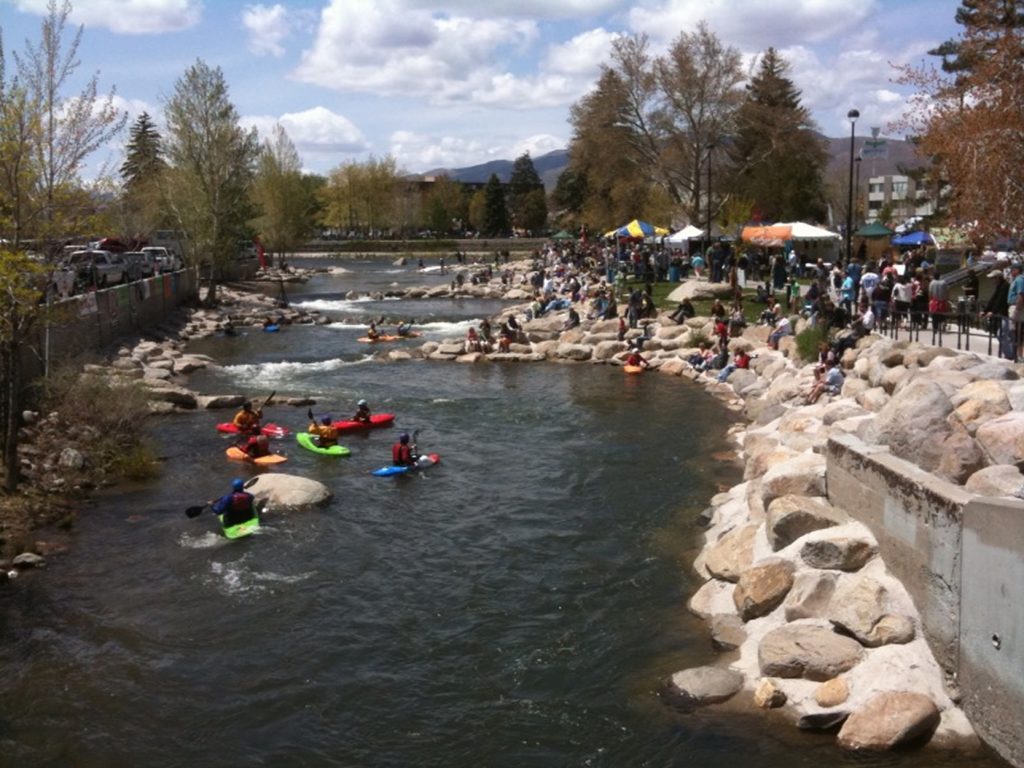 Reno, nestled in the desert of Nevada, is secretly a water oasis. Get to know summertime in the Biggest Little City one restaurant, coffee shop, craft beer hall, and swimming hole at a time along the Downtown Reno Riverwalk. With things to see and do all 12 months of the year, Wingfield Park beckons visitors and locals alike to the summertime Reno River Fest. This is where live music, craft beer gardens, tasty local food trucks, and whitewater kayakers join forces for this two-day outdoor celebration. One of Reno's largest and most celebrated events, the Reno River Festival transforms downtown Reno into the ultimate summer kick-off party. The festivities feature food, shopping, family-friendly rides and attractions, a Craft Beer and Seltzer Experience, a Summer Wine Village, live music featuring nationally recognized artists, a Mother-Daughter Look-A-Like Contest, and the Reno River Roll: one of the unique bike rides in Northern Nevada. In the center of it all, the world's top whitewater athletes take on the Truckee River Whitewater Park. This is an adventure on a whole new level.

Drawing more than 50,000 people to Reno's Riverwalk District and Wingfield Park, the Reno River Festival has become one of the region's most significant events, officially marking the beginning of the event season in the Truckee Meadows. At the center of it, all are the world's top whitewater athletes competing at the Truckee River Whitewater Park. Unfortunately, no whitewater competition will be happening at the 2022 event. However, visitors can still get in on the relaxing sights and sounds of the mighty Truckee River surrounding this outdoor extravaganza.
A festival entry fee will allow you to participate in this authentic outdoor celebration of all things local. There's access to live music at MusicFest, shopping at local crafter and artist booths in the Vendor Village, tasty treats, local food trucks, locally brewed craft beers, and beyond. The Music Festival within the Reno River Festival features live music on two stages, Wingfield Park Amphitheater and Craft Beer & Seltzer Experience, for artists behind some of the biggest hits on the radio performing the music they wrote for significant stars.