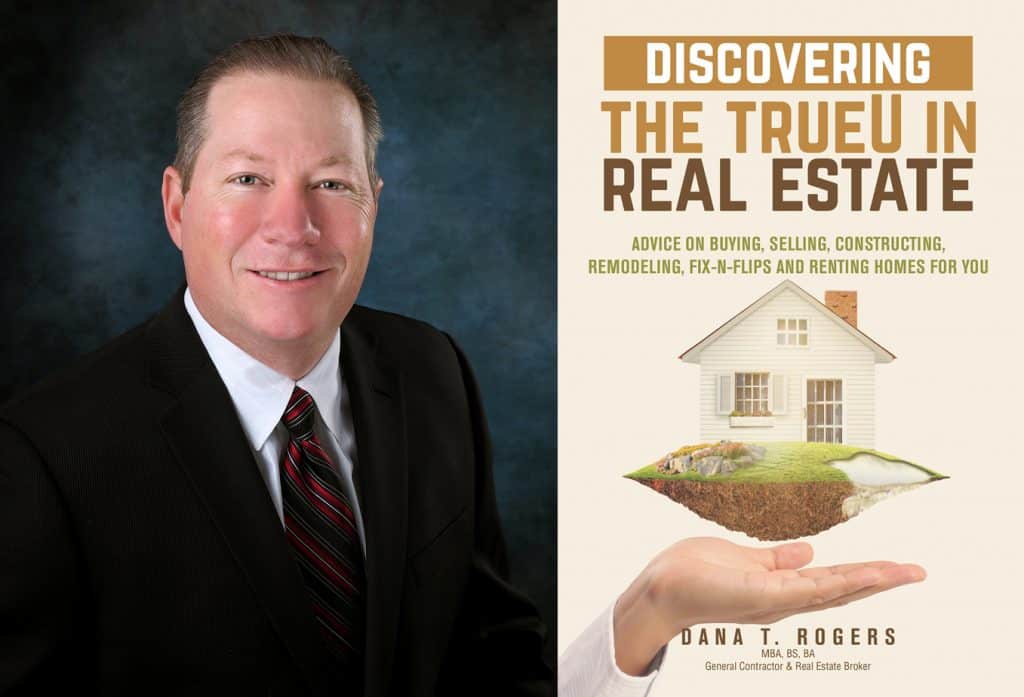 Searching for an ideal home can feel like searching for a needle in a haystack. With the ever-changing market, even if you feel like you have a solid footing, things can often shift without warning. That's why real estate agents are so essential, a guiding light in the dark. So how does anybody purchase a home then without an expert to walk them through it? Just like many complicated topics, it's possible to teach yourself the necessary skills. But instead of going through hundreds of hours of training and then getting enough practice to pick up on the things that aren't taught, you can get the inside scoop. "Discovering the TrueU in Real Estate" is the new gospel on buying, selling, constructing, remodeling, fix-n-flips, and renting homes. And the man behind the words is no other than Dana T. Rogers. A respected member of the industry, Dana, has been in Real Estate for 30 years.
When he was in college, Dana started in construction before moving through every position in real estate from selling, marketing, designing, and building homes. Dana has personally been the licensed, qualified contractor and Real Estate Broker on more than 12,000 homes. His qualifications don't end there, though; Dana has been training to keep his real estate edge his entire life. His multiple degrees include an MBA, BA, and BS. Dana holds a Real Estate Broker and Contractors license in Nevada. But one of the achievements he's most proud of is that he has served on multiple boards of directors, from private real estate companies to the home building industry, all the way to charitable organizations.
Dana is always there to help spread his knowledge. That's why Dana has decided to write "Discovering the TrueU in Real Estate", which is available on Amazon. The name TrueU comes from Dana's own real estate brokerage company, located right here in Las Vegas, Nevada, named TrueU Real Estate. Dana also owns a general contracting and landscape contracting company TrueU, renovation & construction. These companies have been Dana's passion for years now, and it's that sort of eternal focus and commitment that drives him to be an amazing contractor and real estate agent. If you happen to be lucky enough to hire Dana, you get the whole package, real estate, construction, remodeling, renovations and landscaping.
Unfortunately, though, Dana, amazing as he is, can't help everybody. To provide the high echelon of service that he does, Dana can only take on a limited number of customers per year. Representing someone in the home buying process requires 100% dedication, and Dana brings that to every one of his clients. But with the insider knowledge Dana holds, having spent his entire adult life getting to know the ins and outs of what it takes to get the most from the builders, keeping everybody moving forward, and how best to resolve any buyers' challenges along the way or after closing. It was mentioned earlier, but in case you missed it, Dana wants to help you! Those years of experience are coming to bear on the most comprehensive and brilliant real estate guide on the market. "Discovering the TrueU in real estate" can bring you from square zero to owning your own home and getting it renovated or remodeled to fit your needs. Your dream home could be one book away! From the day you move into your new house, following Dana's process, you can love and enjoy every day, transforming the house into a home. Dana excels in educating and informing buyers to improve their understanding of housing and enjoys helping them experience the entire journey from finding a home to improving it and moving in. This book will provide you with some information and insight into some different aspects of Residential Real Estate allowing you to discover the TrueU in buying or selling your home or the financial TrueU pursuing housing to flip or rent. Either way, it is always important to consider using professionals to guide you along this detailed journey.