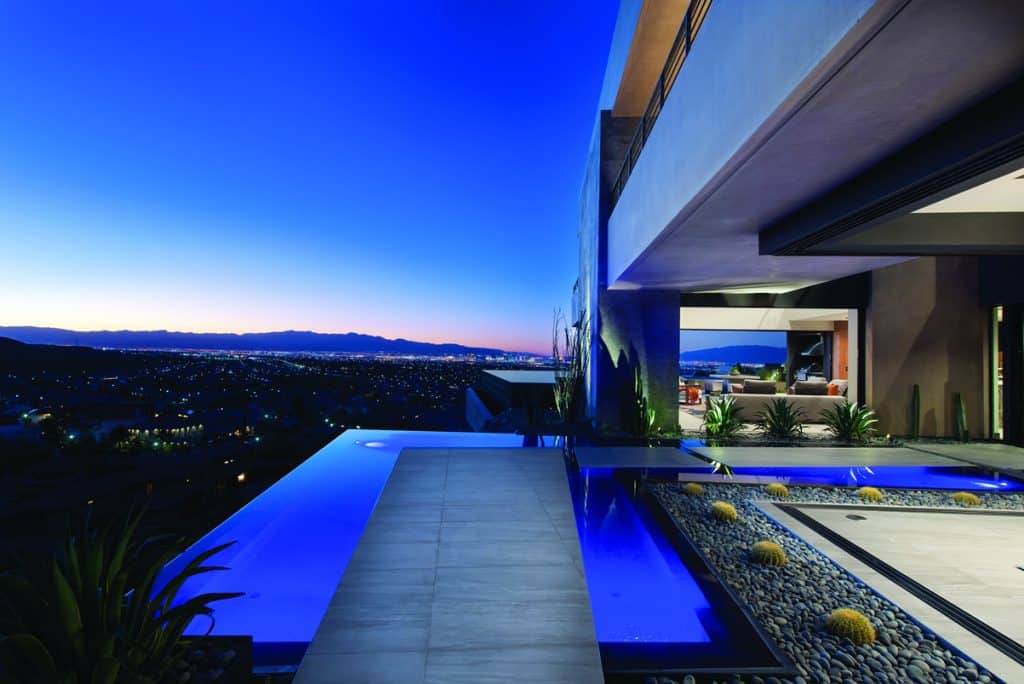 With nearly twenty years of expertise under its belt, the distinguished Las Vegas-based company has garnered a multitude of awards, cementing its reputation as the leading custom home architecture and building firm in the area. The firm's exceptional portfolio features custom homes situated in some of the most sought-after communities in Las Vegas, such as Ascaya, The Summit, MacDonald Highlands, and The Ridges.
Constructed in 2021, Vegas Modern 001 (VM001) is a testament to Blue Heron's groundbreaking advancements in architecture, design, and technology. Nestled within MacDonald Highlands, this stunning property sold for a staggering $25 million the same year, establishing a new benchmark for the most expensive residential sale in Las Vegas. Currently, VM001 functions as both a private dwelling and an impressive showcase for Blue Heron's visionary designs.
"Drawing inspiration from its namesake, Vegas Modern 001, our Vegas Modern Philosophy embodies a timeless approach to architecture, design, and construction that surpasses the boundaries of time and fosters inspiration for future generations," said Tyler Jones, CEO & Founder of Blue Heron.
Blue Heron's dedication to excellence is unwavering, as evidenced by its innovative design concepts and unmatched customer service. These qualities truly set them apart in the industry and contribute to their continued success in the realm of custom home building.
"Experiencing awe means being captivated by something immense that surpasses our comprehension of the world, leaving us astonished and enchanted. At Blue Heron, we aim to design astounding homes that honor the surrounding landscape and the unique glamour of Las Vegas while catering to today's modern lifestyles," explained Jones.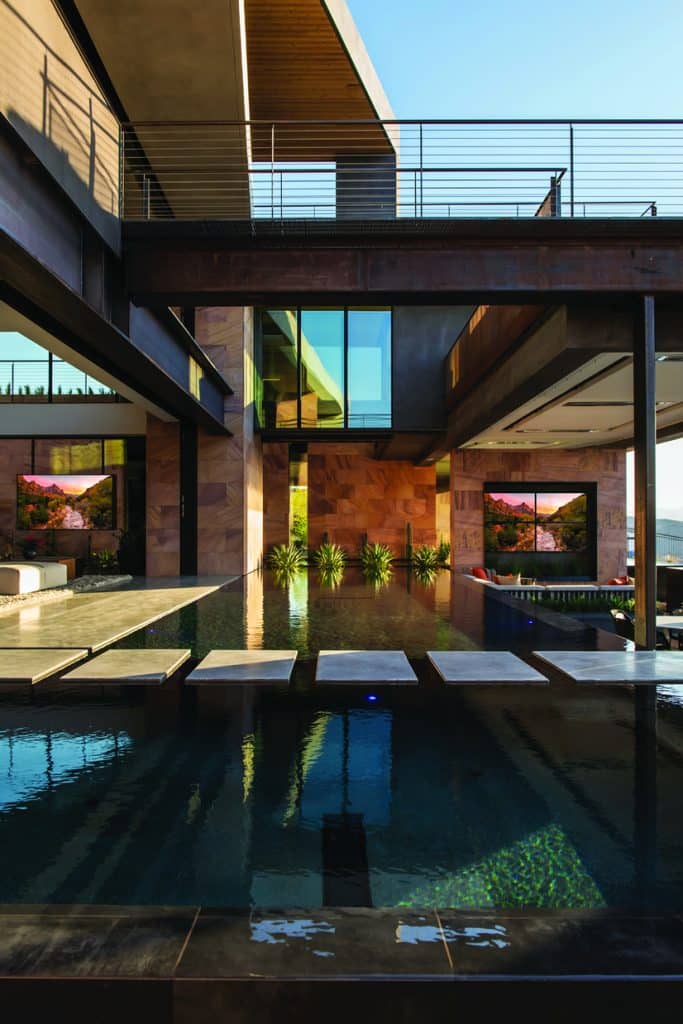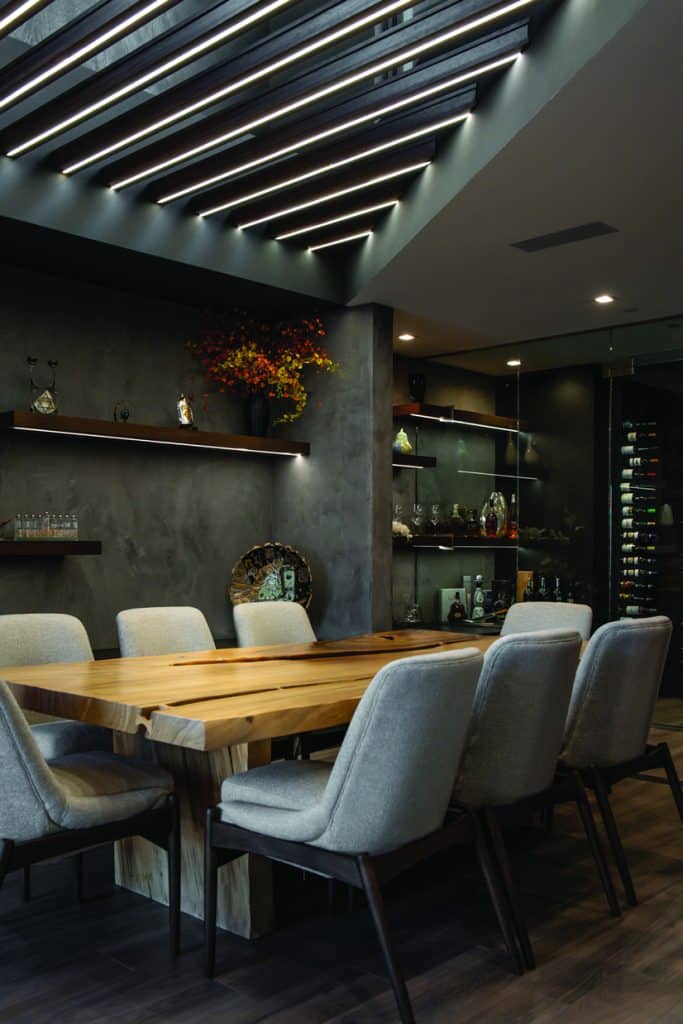 Understanding Client Vision
Blue Heron's approach is centered around truly understanding each client's unique vision. By attentively listening to their needs and aspirations, the firm works diligently to bring their dreams to life. A team of devoted experts, passionate about every aspect of the home-building process, collaborate to ensure that each home is meticulously crafted to achieve nothing less than perfection.
Distinct Building Options
Blue Heron offers three distinct home options to cater to client preferences:
ELITE A fully personalized design-build experience tailored to each client's vision.
SIGNATURE A collection of pre-designed, quick-delivery homes with exceptional quality and thoughtful curation.
NEXUS Starting at $1 million, Nexus features boutique communities designed and constructed by Blue Heron, offering a curated selection of floor models to choose from.
In addition to its architectural and building expertise, Blue Heron offers a dedicated division called "Blue Heron Lifestyles," which focuses on the home's interiors. Blue Heron Lifestyles specializes in interior design, furnishings, fine art, decorative accessories, and pragmatic pieces that make your home mesmerizing, effortlessly functional, and move-in ready. The pieces they select, the art they discover, and the services they unlock produce extraordinary interiors perfectly tailored to each home.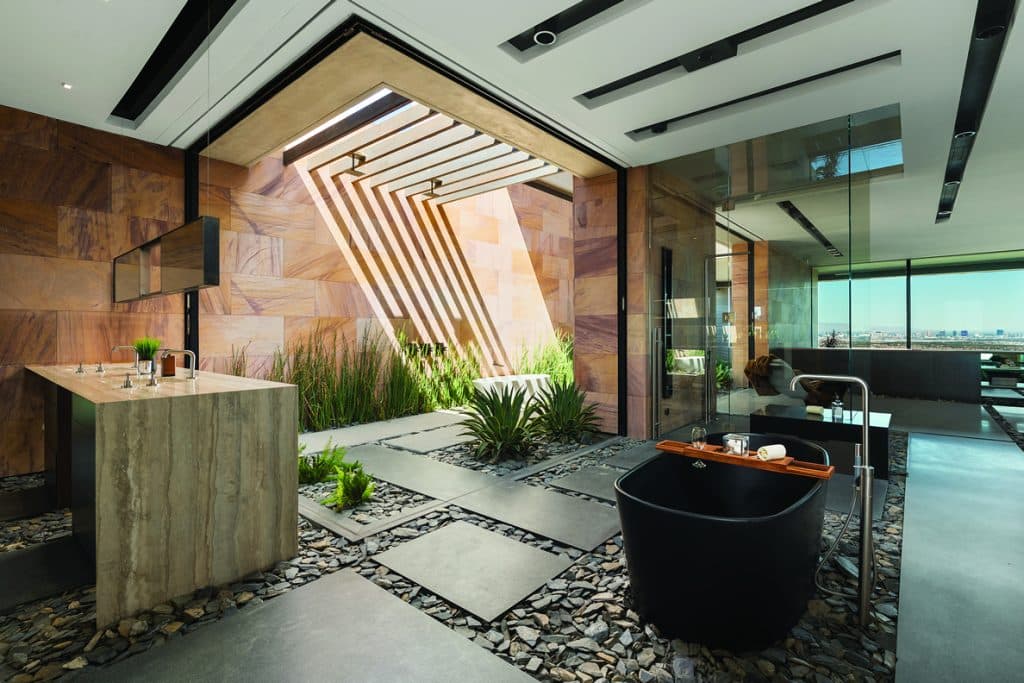 Innovative Biophillic Design
Blue Heron's pioneering approach to home design integrates biophilia, the innate human instinct to connect with nature and other living beings. By incorporating elements of biophilic design, Blue Heron homes enhance daily productivity and psychological well-being through innovative architecture, technology, and a seamless connection to the natural world.
"Just like the feeling of awe, it has been widely recognized that spending time in nature can lower our cortisol levels, alleviate anxiety, and enhance our mood," reflects Jones.
Key Features of Blue Heron Homes
Blue Heron homes are characterized by their spacious, open floor plans, calming color palettes, and expansive pocket walls of glass that blur the lines between indoor and outdoor spaces. Further enriched by biophilic design elements inspired by the desert landscape, these homes foster a deep connection to nature and promote mindfulness.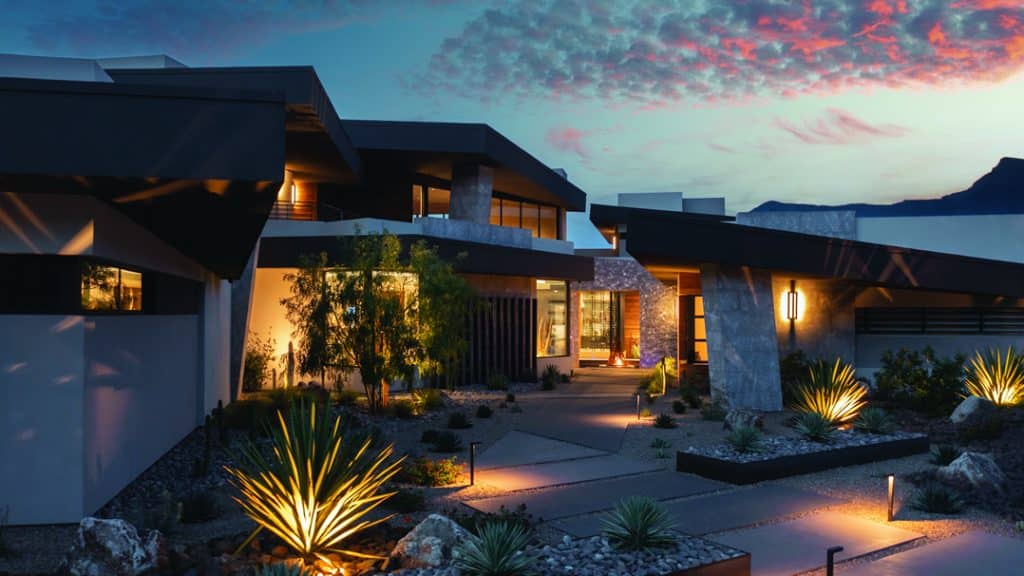 Setting the Bar for Excellence
Blue Heron sets itself apart from other luxury builders in Las Vegas through their unwavering dedication to excellence. By implementing extensive quality control measures and attending to the finest details, the firm ensures that every aspect of its home-building process is executed with precision and care, culminating in an exceptional final product.
Signature Landscaping and Outdoor Living
Landscape design plays a vital role in Blue Heron's creations, producing visually captivating functional spaces that perfectly integrate with the home's architecture and interior. Blue Heron homes showcase contemporary desert landscaping that emphasizes low-maintenance vegetation, sustainable irrigation systems, and outdoor spaces that harmoniously blend with the untamed surroundings. Blue Heron's desert landscaping features an array of captivating elements, such as drought-resistant plants arranged in mesmerizing patterns and inviting outdoor living spaces that encourage relaxation, socializing, and appreciation of the stunning natural landscape.
A Legacy of Transformative Design
As the demand for beauty, functionality, and tranquility in homes continues to grow, Blue Heron remains at the cutting edge of design. With each client and project being unique, Blue Heron homes stand as testaments to the transformative power of flawlessly blending wellness, architecture, interior design, and natural landscaping, truly changing lives and transcending time in both vast and subtle ways.