For almost five years, Debra March has served as the city of Henderson's mayor. Staunchly advocating for the communities needs and wants, Mayor March has been a proponent for the very best of the change that's sweeping the city. Maintaining a strong focus on transparency, engaging with the community, and maintaining an open dialogue on issues of importance to residents, Mayor March will be remembered fondly as her final term comes to a close. However, you may soon know your favorite Mayor as Lieutenant Governor March. We sat down with the possible future Lieutenant Governor of Nevada as we reminisce on her time in office and look forward to the bright future of both Nevada and Debra March.
TELL US A LITTLE ABOUT YOURSELF AND YOUR TIME AS HENDERSON MAYOR?
I'm proud to say that Nevada has been my home for more than 40 years. I graduated from UNLV and began my career as a park ranger in Lake Tahoe, the first female park ranger in the state. I then worked as a social worker in rural Nevada.
I attained my real estate license in 1980 and eventually served as the Deputy Administrator for the Nevada Real Estate Division. I then spent 13 years as Executive Director of UNLV's Lied Institute for Real Estate Studies.
I first joined the Henderson Planning Commission in 2004. I was then appointed to City Council in 2009 and was subsequently elected in 2011, and reelected in 2015, and then elected as Mayor in 2017.
My diverse experience has proven very useful as I serve the residents and businesses of Henderson – those here today and perhaps more importantly, those to come.
I am proud that we've grown into one of the 100 largest cities in the United States, bigger now than St. Louis, Cincinnati, and Pittsburg! Yet despite that growth, we are ranked the second-safest large city in America.
It has been a great privilege to serve this community as Mayor, and I am sad to see this chapter come to a close. Public service is in my blood, it's who I am… and I plan to continue to serve this state that I love.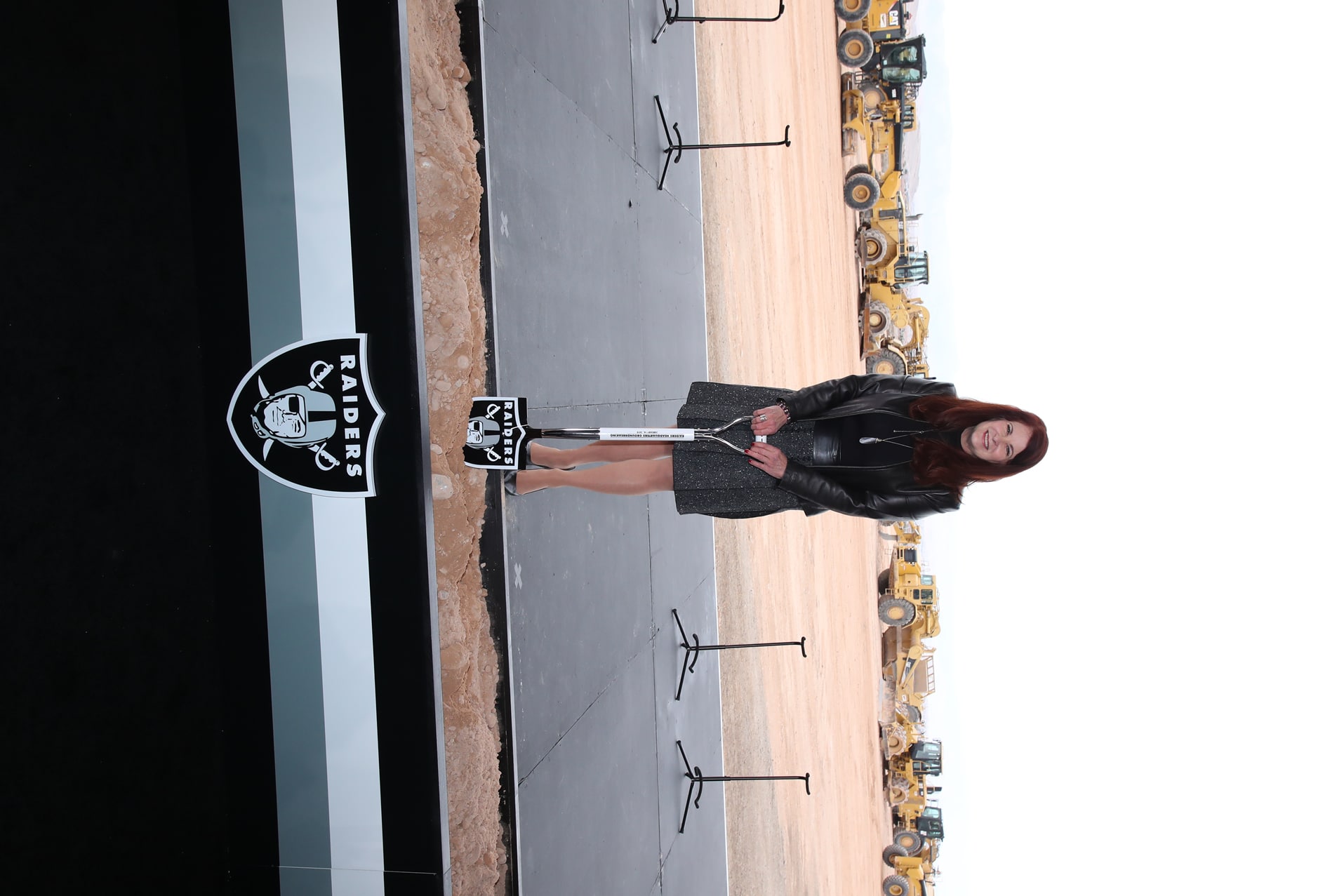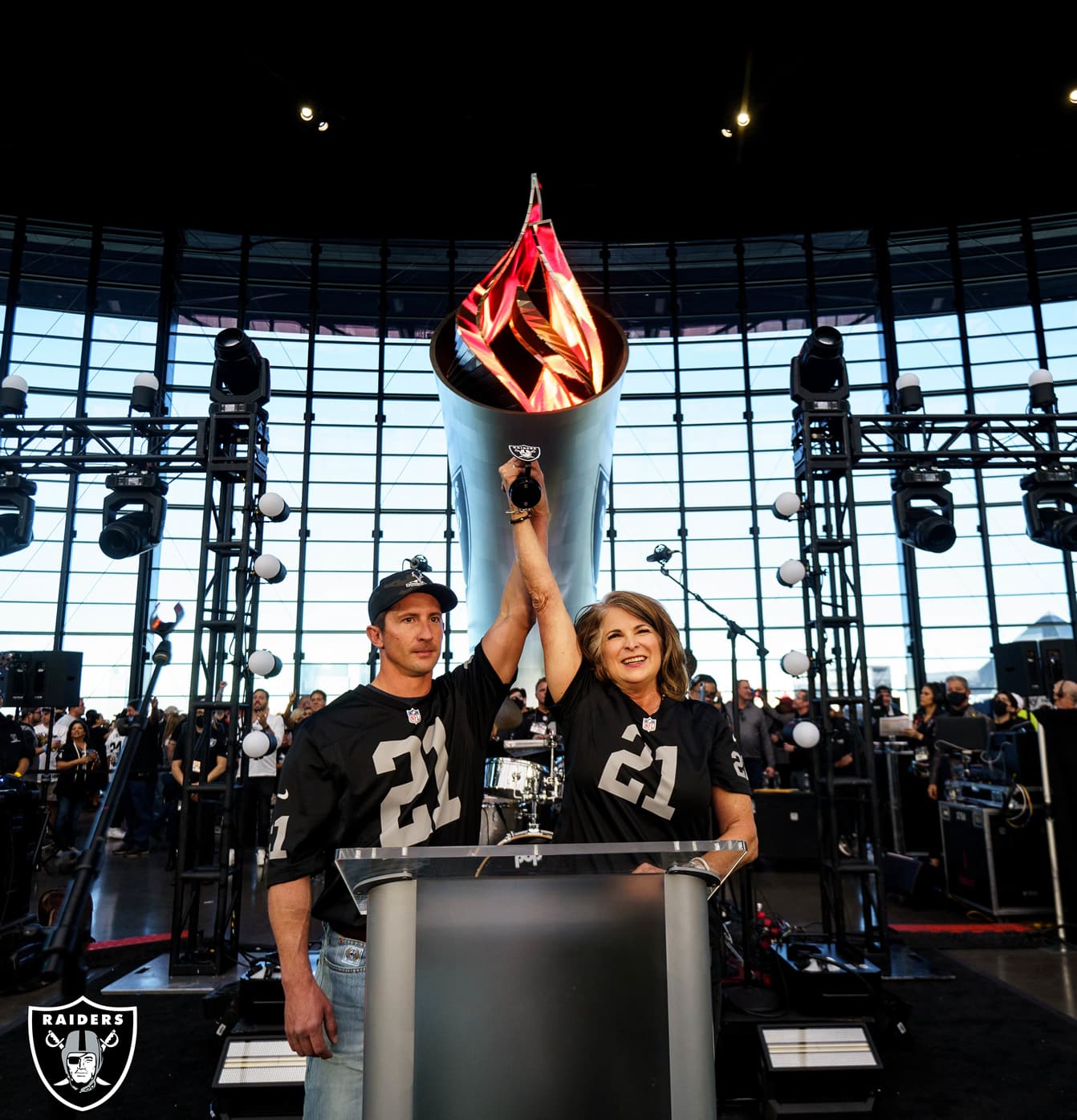 WHAT ARE YOU THE PROUDEST OF AS MAYOR OF HENDERSON?
I'm very proud of our city's efforts in economic development, targeting industries that promote diversification and bring jobs of the future to Henderson – higher-skilled and better-paying jobs that will be here long after I am gone. For instance, Haas Automation, the world's largest manufacturer of machines that build machines, is currently developing a 164-acre campus in West Henderson that will bring 2,500 high-skilled jobs to this community. And Google has invested more than $1.2 billion for two datacenters, putting Henderson on the global stage for tech innovation.
Creating jobs of the future also means preparing a future workforce, and we've had a lot of recent successes in that area as well. The city works with our education partners to create training and career pathways to meet the needs of Henderson employers. We contributed to Nevada State College's (NSC) new Glenn and Ande Christenson School of Education that opened last year which will significantly increase our teacher pipeline. We also worked with NSC and the College of Southern Nevada (CSN) to create the Betty Engelstad School of Health Sciences to address the critical need in our community for more healthcare professionals. We are also working with the Clark County School District to locate a Career and Technical Academy in West Henderson that will break ground this fall. And we broke ground earlier this year on the Center of Excellence, a workforce training center in partnership with CSN that will open later this year. We want to prepare our current workforce for future business needs and create a talent pipeline for employers. In turn, that will attract additional companies to come to Henderson.
I'm also very proud of the partnership that we've built with the Golden Knights organization. It started with the creation of Lifeguard Arena on Water Street, creating our very first professional sports team, the Henderson Silver Knights. That was a catalyst project, attracting thousands of visitors and many new investors to Water Street. That then led us to create The Dollar Loan Center (DLC), a state-of-the-art sports and entertainment venue that replaced the old Henderson Pavilion.
Less than five years ago, there were no professional or major college sports in Henderson. Today we are a sports city, home to four professional teams and major tournaments like the Big West Basketball Championships! Sports and entertainment options add to the quality of life for many in our community and certainly have a positive economic impact. In fact, the annual economic impact of the DLC is expected to be up to $26 million.
WHAT DO YOU SEE IN THE FUTURE FOR NEVADA IN PROSPERITY AND GROWTH?
My vision as Lt. Governor is to build a brighter future for all Nevadans. A diverse and sustainable economy requires appropriately scaled and aligned governance that recognizes regional needs and challenges. Nevada is comprised of three distinct regions that require different suites of policies to uphold favorable trends while steering private and public investments in ways to overcome unfavorable ones. While we are One Nevada, we have diverse needs and assets in each region.
The role of the Lt. Governor is to serve as the chair of the Nevada State Senate, vice-chair of the Nevada Department of Transportation, board of directors, and chair of the Nevada Commission of Tourism. I bring decades of experience into all these divisions of office.
HOW HAS SERVING AS THE MAYOR OF HENDERSON PREPARED YOU FOR LIEUTENANT GOVERNOR?
As mayor, I have been dedicated to improving our schools and ensuring our children have the resources they need and deserve. I have also committed to keeping Henderson safe and have worked tirelessly to diversify our economy and bring significant new industries to Henderson, with several public facilities under construction. Henderson continues to be an innovator and provides all the hallmarks a city needs to remain an attractive community where families desire to live. I've delivered on these goals while ensuring that we remain fiscally responsible and stable. As lieutenant governor, it would be my top priority to bring these best practices in economic development to the state level and serve all Nevadans with the passion and enthusiasm that I have as mayor of Henderson.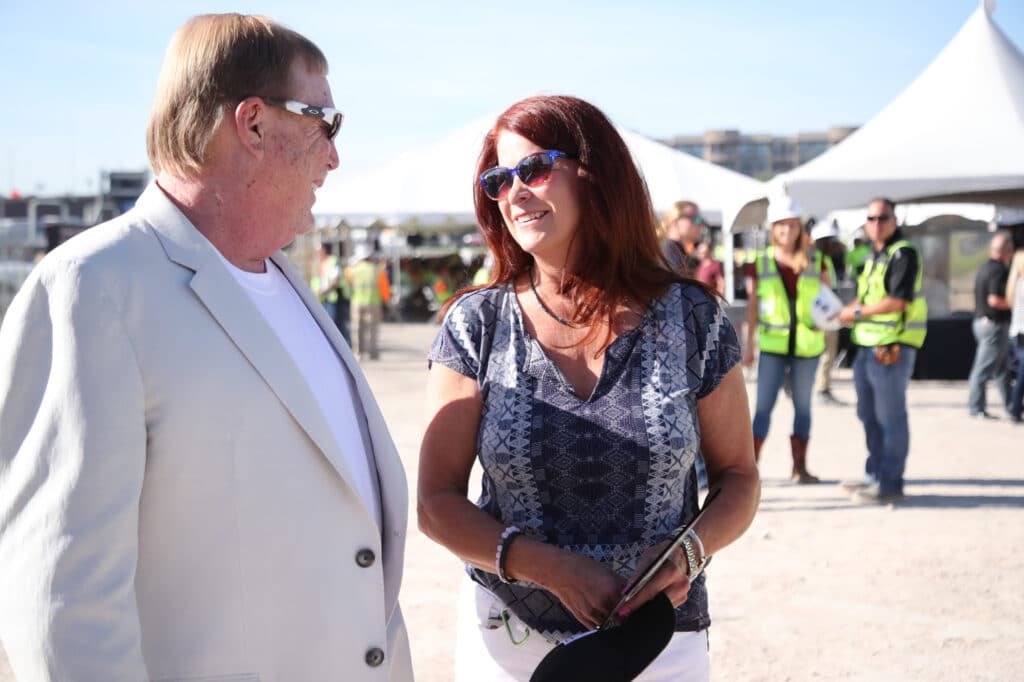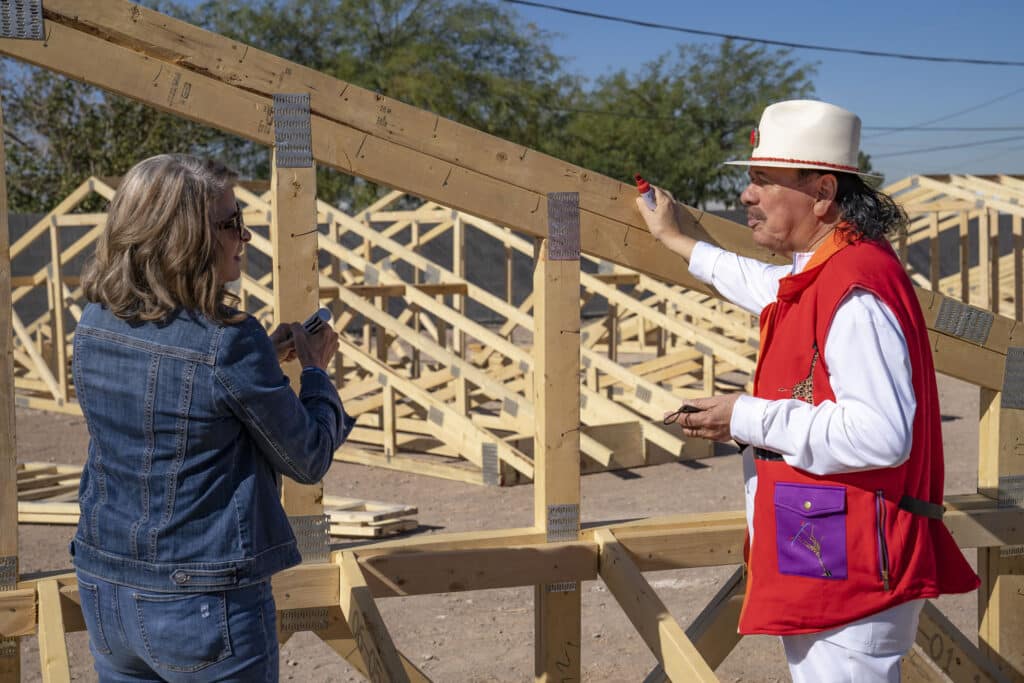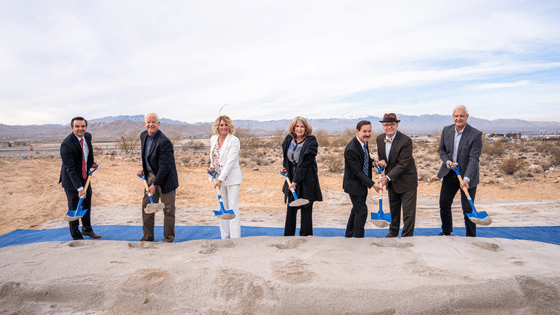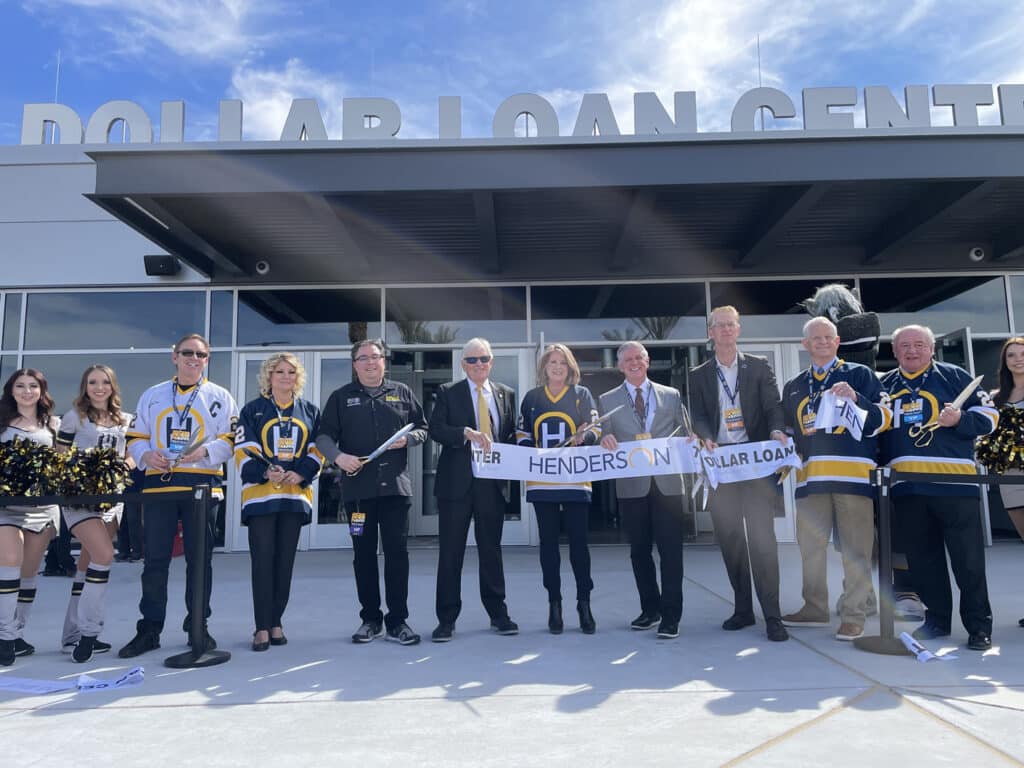 WHEN YOU ARE NOT WORKING ON THE ISSUES FOR THE COMMUNITY, HOW DO YOU RELAX?
I get outdoors! I am an avid bicyclist and truly enjoy the more than 220 miles of hiking and biking trails that we have in the city of Henderson. Lately, I've been riding the newly completed Harry Reid Union Pacific Railroad (UPRR) Trail which connects all the way to Boulder City.
One of the goals in our strategic plan is to have a park or park amenity within a 10-minute walk of every resident. Our nationally recognized parks and recreation contribute to Henderson's premier quality of life as well to our community safety. I also enjoy horseback riding, off-roading, and white-water rafting. It's relaxing for me to get outside and enjoy these incredible amenities that we've worked so hard to create.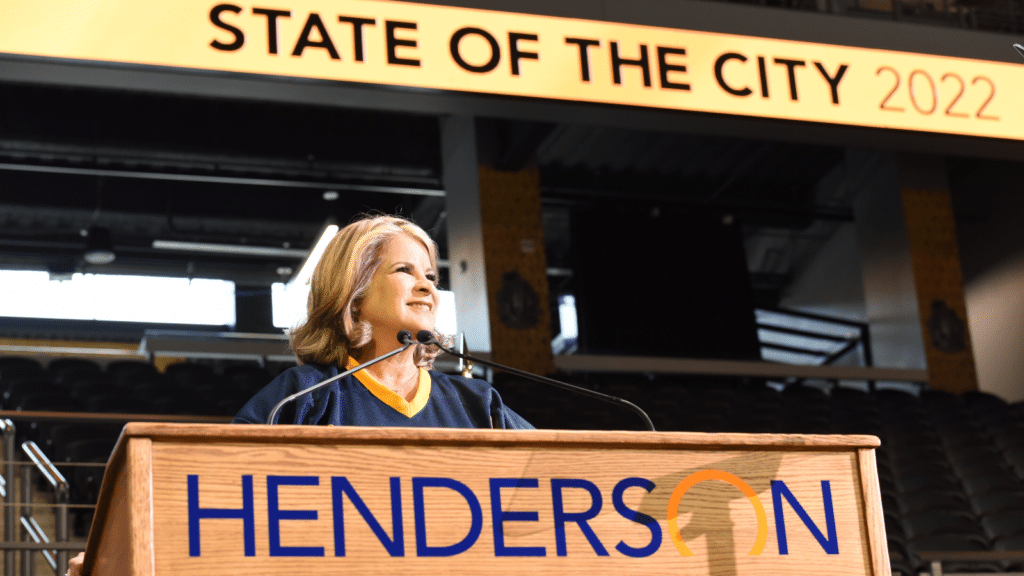 WHAT ARE SOME OF YOUR FAVORITE PLACES YOU LIKE TO VISIT IN THE COMMUNITY?
The transformation that has taken place on Water Street is just incredible. Almost 30 years ago, we envisioned what this area could be. We faced naysayers and doubters, but we stuck with the plan and worked that plan. Now, thanks to our partnership with the Golden Knights organization to create Lifeguard Arena, the area has just blossomed. It has become the urban center we always wanted; families are out enjoying the restaurants and community activities and new businesses are popping up everywhere you look. I especially love the Golden Knights and Aces watch parties that we host on Water Street Plaza.
Another best-kept secret in our community is the Henderson Bird Viewing Preserve. With nine ponds and more than 270 bird species, it's just a spectacular oasis in the heart of the city. Their Sunday Jazz Concert Series has been phenomenal.
WHAT WOULD YOU LIKE THE VISITORS OR POTENTIAL BUSINESSES THAT MIGHT BE CONSIDERING HENDERSON TO KNOW ABOUT THE AREA.
Henderson is a really special place. There's a reason that we are on so many national "best of" lists, like one of the safest large cities in America, and one of the best places to raise a family, to retire, to buy an affordable home, and for veterans to live. We're even ranked as one of the top two cities in the nation for dogs! Our master-planned residential areas, award-winning parks and recreation facilities and investment in our schools all contribute to a premier quality of life for those that live, learn, work and play in our community. Our 2021 Community Survey shows that 97% of Henderson residents are satisfied with the City as a place to live, and 94% are satisfied with Henderson as a place to raise a family. Our survey numbers are consistently very high and far above average for cities of our size.
Henderson also offers a lot of advantages for businesses, and we have a smart team that works hard to create a culture of opportunity. And we are an organization of strategic planners, always looking ahead and considering the long-term impacts of the decisions we make. We are creating a premier community, and that means attracting the kinds of businesses that are right for our future along with prioritizing investment in infrastructure, workforce development, transportation solutions, and sustainability to ensure our growth is thoughtful, strategic and sustainable. Our focus is clear, our standards are high and our future is bright.
We're seeing huge momentum right now and I am excited for new residents and new businesses to choose Henderson as their place to call home.
WHAT IS YOUR MOST ENJOYABLE EXPERIENCE AS MAYOR?
Meeting and working with the people that make up our city, the residents, business owners, and community leaders. We have created a sense of place in our city and those that live here and/or work here know that. We all want what is best for Henderson, and the diversity and differences of opinion of all our stakeholders make for a greater outcome.
WHAT IS YOUR FAVORITE VACATION SPOT?
I am fortunate to be able to travel both nationally and internationally and have several favorites, each one being unique with warm memories.  I was born in Michigan, and still have family there, so traveling there is always special.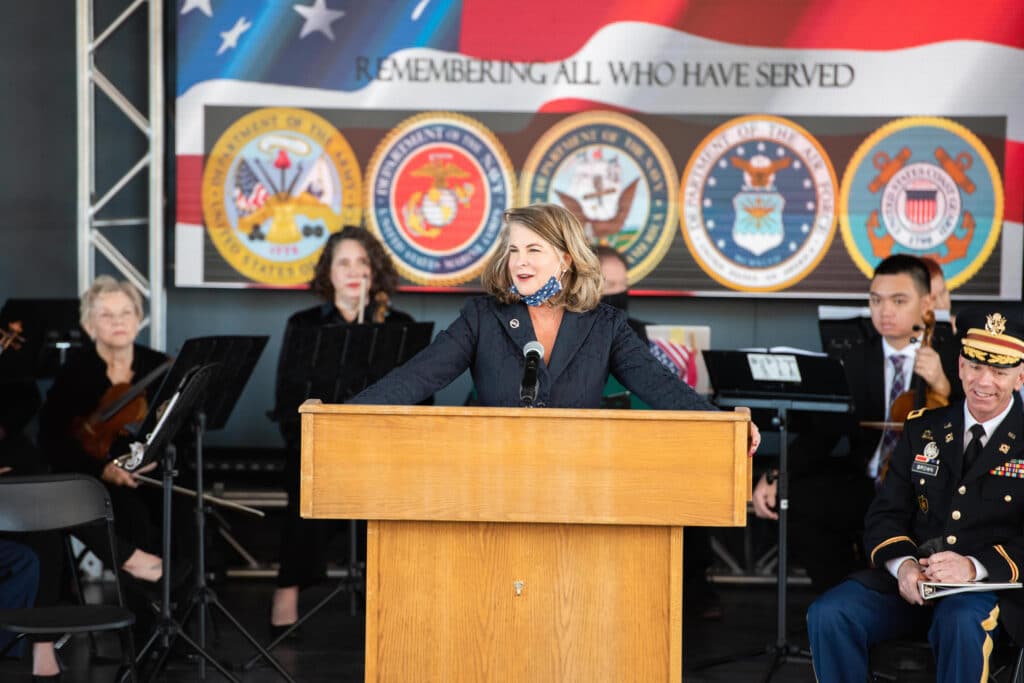 WHAT WERE SOME OF THE TOUGHEST CHALLENGES YOU FACED IN 2020/2021?
The COVID-19 pandemic has been a challenge like no other for all of us. I was so grateful to see how our community came together – the humanity of Henderson was truly overwhelming. From converting factories to make PPE and hand sanitizer, to all of the essential workers who kept us safe, to our city employees who kept us open for business – people really came together to help each other when we needed it most.
Water conservation has been a long-term challenge, and certainly something that still keeps me up at night. But I'm really proud of the results of our conservation efforts over the past 20 years.  Thanks to the cooperation of our residents and businesses, we have been able to grow without substantially increasing water consumption.
And education continues to be at the forefront of our focus. Even though Nevada school districts are mandated to be organized at the county level, Henderson takes an active role in creating and supporting education initiatives that benefit our community. Since 2015, we've given more than $9 million to bring additional resources to our Henderson teachers and students. During the pandemic, we immediately took action to ensure our students had Chromebooks and access to Wi-Fi for at-home learning.
Moving forward we need to look at changes within the Clark County School District as the status quo is not working, we need to seek new solutions on how we educate our children. Right-sizing our districts and classrooms need to be a part of the conversation. We need to be investing in our teachers with training and financial compensation. An educated workforce is the key to a financially strong future for our state. 
It looks like Nevada is in good hands. Those hands are the capable ones of Mayor Debra March. As she has guided Henderson to a bright and prosperous future, she intends to help chart the rest of Nevada's course. As a Nevada resident for over 40 years, Mayor March is committed to the progress that matters to Nevada's citizens. Thanks to her, there is much to look forward to in the coming years.