We recently had the opportunity to interview Birko Roland, co-owner of The Diamond Store, which recently opened in Boca Park in November of 2022. In the interview, Roland shared insights into his innovative business concept and provided tips on choosing the perfect diamond. Before diving into those topics, let's get to know Roland and how he's creating an elevating experience at The Diamond Store.
Tell us a little about your early years:
Absolutely! I'm a dual citizen of Isreal and Germany; I lived in Isreal for many years before moving to Germany to study Biochemistry at the University of Bremen. I got my master's degree and used that knowledge when I moved back to Isreal and
I opened two stores in Jacksonville and Salt Lake City , and in 2016, the Jacksonville store was the fastest-growing jewelry store in all of America. I ended up selling these two stores to Blackstone, and they continued operating as Diamond Direct. After that, I came to Las Vegas and opened up Sky Diamonds, located at Town Square, off South Las Vegas Blvd. This was, for me, only a side project, with the end goal of bringing The Diamond Store to life.
The Diamond Store provides something no other jewelry store in the area can by elevating the experience for any customer who enters our store.
The Showroom at Boca Park has the most extensive diamond and loose jewelry inventory in Nevada. I follow a unique concept where we cut out the middleman. We get the rough diamonds and deliver the finished piece to you. Everything is under my control, the cutting, the polishing, even the certification. This makes The Diamond Store incredibly special and gives me more buying power than anybody else.
What is something you want people to know about buying jewelry, especially diamonds?:
When buying jewelry, especially Diamonds, every piece is unique; no two are alike. You should always trust your eye and not just focus on the specs or certificates. It is also ok to compromise; because the sky is the limit. What I mean by that is no matter what diamond you buy, there is always one bigger, rarer, and more expensive than it. A diamond is an emotional purchase with an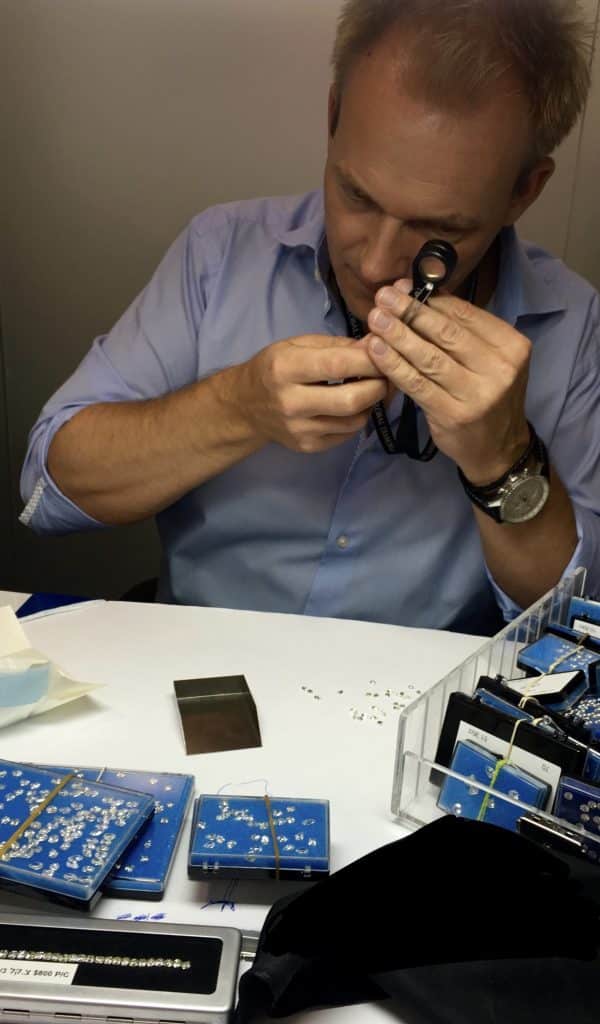 We've heard a lot about how you and The Diamond store are involved with charities and the community. Can you tell us a bit about that?:
The Diamond Store is a Vegas-born company, and the people in the Summerlin area graciously accepted us. So it is only fitting; as a good neighbors, we give back. We are very active in being charitable, and The Diamond Store also contributes to the community. Big Brothers, Big Sisters are just one of the charities The Diamond Store is involved with, the Angel Heart Foundation is another. And we just recently partnered with the Las Vegas Aviators, becoming the official jeweler of the baseball team. We love the community, and we also feel responsible for giving back.
So we hear a lot about lab-grown diamonds right now; why so much buzz?:
An earth-grown diamond is over a billion years old, from dust to finish and formation. It has a very long journey from 100 miles below the earth. Lab-grown diamonds are identical to earth-mined diamonds in every way, except that they are grown in a lab. They have the same chemical, physical, and optical properties as mined diamonds and exhibit the same fire, scintillation, and sparkle. We want you to make the best decision possible, so we carry both kinds and walk you through the whole process.
Fantastic! Well, thank you very much, Roland. Is there any final message you'd like to leave our readers with?:
The Diamond Store is for everyone. Whether you are a college student or a business owner. We have diamonds in every size, in every shape, in every quality, for every budget. We firmly believe there is no A or B class. No matter what, every customer will feel the magic in our showroom. We are there to guide and educate anyone wanting to make a more intelligent decision when getting the most beautiful diamond possible.